Store_a_Pic (lastest release 1.0.2.2)
Store_a_Pic is a free windows program designed to store (or pack) images into a single database, not only to alleviate clutter, but also to prevent accidental deletion of an image (s). Atlhough its primary purpose is storage, the images stored can also be viewed by this program as well as exported, either as a single file or through mass export of all stored images. Single file, or mass deletion of stored images is also a function of this program.
Additionally, Thumbnails of images may also be exported, along with printing of images shown within the view window. For complete, up-to-date details and operation of this software, please refer to the program's included help files. Due note, the default pincode for this software is '123123'.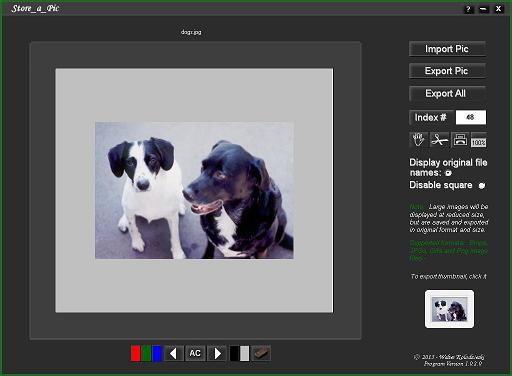 System Requirements:
WinXP (SP1) or higher (Win 10 included (English))
Minimum resolution: 1152 x 864 ( square display )
Recommended resolution: 1600 x 900 ( wide screens )
Graphics Card 250.00mb (or higher (is recommended))
Site Links: Download (version 1.0.2.2)
ALTERNATE DOWNLOAD SITES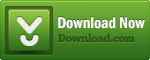 ChangeLog: (version 1.0.2.2)
Added: Option to share database (see help files)
Updated Help Files accordingly -
ChangeLog: (version 1.0.2.1)
BugFix Release (Font Issue);
Some users unable to add 6th digit to code (fixed)
ChangeLog: (version 1.0.2.0)
Added option to add Image Scribble (printed image)
Added option to add Text to Image (printed image)
Updated help files accordingly -
ChangeLog: (version 1.0.1.9)
Removed mxws print dialog block (ms document
writer & print pdf (windows 10))
Added option to print ThumbNail (see help files)
Verified compatibility with Windows 10
Updated/Corrected help files -
ChangeLog: (version 1.0.1.8)
Improved: Rendering speed (Preview Window)
Added: Print Image function ( Physical Printer )
Updated help files -
ChangeLog: (version 1.0.1.7)
Improved: overall thumbnail size rendering
Thumbnails: now exported as slide (framed)
Updated/Corrected Help Files
ChangeLog: (version 1.0.1.6)
Added: Option to export image as thumbnail
Updated help files (+ additional Win 8 Info)
ChangeLog: (version 1.0.1.5)
Minor: removed redundant and/or unused code
Changed: Misidentified error message
Added: Data error input check ( caption data )
Updated help files -
ChangeLog: (version 1.0.1.4)
Added: Option to add Captions to Stored Images
Fixed: Minor overwrite bug in static info (verbose)
Updated help files accordingly -
OTHER SOFTWARE - PC WINDOWS
PC Journal (latest release (version 4.0.1.6)), is straight-forward, easy to use journal (or if you prefer the term, diary) software, meant to give users the opportunity to write down their thoughts safely and securely. Its style harkens back to the days of old, before computers, when a store bought, five and dime diary was all that was needed to hide away your inner most thoughts. Much like the old style keys someone needed to gain access to their journal or diary, the pc journal requires a numerical pass code (supplied upon 1st use (a copy of this code is found inside pc journal's main folder (check compatibility files tab if file passcode.txt is not seen)) for entry, and optional encryption provides further protection of your privacy.




The interior of the journal also contains a compact address book, a daily reminder, as well as a Scribble pad (Stylus pen or mouse use (standard text characters and pictures may also be added to the notes ( can simply be used as a photo album)), and several of the most common and simple games of yesteryear (slide puzzle, tic tac toe and hangman). The entries themselves may be viewed, front to back or back to front, and can be searched by date as well. The journal comes with 3 optional covers, with an additional option to create your own custom cover as well. Complete and up-to-date help files are also included and should provide answers to any questions that you may have about this software.




Minimum Screen Resolution: 1152 x 864
Operating Systems: XP(sp2) or higher
256.00 mbs Graphics Card (recommended)
ChangeLog: (version 4.0.1.6)
Fixed: Runtime error (if launching the journal's web browser control with insufficient web address length -
Added: Basic printing for journal (both text field and scribble pad notes.
Updated help files accordingly -



Download Pc Journal (version 4.0.1.6 (file size: 4.33mbs)). Alt. Download (Softonic) Download Alternate custom covers for pc journal (file size: 800 kbs))



Alternatives: Pc_Journal was designed to emulate the old time, simple diaries of yesteryear, before computers ruled the world. There are of course, many alternatives out there, such as MyDearDiary, IDailyDiary and Mendeley Desktop (this is more or less financial/business software), all of which have favorable reviews by some users. Why, might you wonder, am I mentioning other software similar to my own? Simple, free stuff rocks and there's plenty of journal and diary software out there from which to choose from, and since everyone's taste and requirements for software differs, it helps to look around to find your own perfect fit. So, happy hunting. :)
Installation Note: All software on this page is 'unsigned', meaning that window's smartscreen will attempt to send shivers down your spine that the software you are about to download or install is from an unknown publisher (even though it will also notify you that 'no threat is detected'). Yes, I could pony up the several hundred dollars for digital certificates for my software, but I personally have a difficult time justifying paying a company like DigiCert my hard earned dollars for something that I plainly give away for free (though, I may yet surrender and do this at some future date (grudgingly, of course)).
15 Slide Puzzle (pc windows (newest release 1.0.2.4):
Slider Puzzles have been around since the late 1800s and are built around the simple, yet challenging concept of moving jumbled tiles back to their original (solved) configuration. For a tougher challenge, magic square solutions are now also possible (see help files for details). Compatible with XP, Vista and Win 7/8. Supports bitmaps (.bmps), jpeg (jpgs) and non-animated gif image files -

Requirements: None. Compatible with all windows, xp or later 32/64 bit systems. Reportedly compatible with linux under Wine distro.

ChangeLog (ver. 1.0.1.8 ):

Added support for .jpgs and .gifs (non-animated)
Added mute option (for tile slide collision effects)
Removed .bmp resizer program (now integrated)
Updated help files





ChangeLog (ver. 1.0.1.9 ):

Changed: Explorer shell now shows all supported image files
Changed: Program's color scheme
Fixed: minor mute control gaff (missing graphic ( audio off ))





ChangeLog (ver. 1.0.2.0):

Tweaked open-file dialog settings
Added double buffering (reduced screen flicker)
Added stop function (internal (don't process unsupported file types))
Updated/corrected help files





ChangeLog (ver. 1.0.2.2):

Minor bug fixes
Improved support/compliance for 64bit systems
Updated help files





ChangeLog (ver. 1.0.2.3):

Added Magic Squares (optional solution (see help files))
Tweaked Dialog box (show all supported image files)
Updated help files





ChangeLog (ver. 1.0.2.4):

Added support for .png image files.
Updated help files




ScreenShot Download 1.0.2.4 (for alternate download sites, see banner buttons below)

Software Features:

Time Clock
Moves Made
Best Time
Game Result
Multiple tile movements; any direction / combination
Numbers, Letters or images (bmp, jpg, gifs).
Disable 15/14 board (limit puzzles to solvable board)
Timed Limit (1 hr. maximum to solve puzzle - board)
Sound Effects
HANGMAN (pc windows (scarecrow edition) Newest release: 1.0.1.4):
I'm uncertain of the origins of the pen n' paper hangman game, but I'm fairly certain that its been around for a long, long time. Hangman scv is one version of this classic game and even in this high tech gaming world, there's still some room left for those simple games of yesteryear. And, of course, the software is free. Compatible with Windows XP or higher -

Software Features

Expandable database
User Control Console
Displayed stats
Kid friendly graphics
Sound Effects
Touchscreen compatible
HANGMAN (pc windows (circus clown edition)):
A circus clown of the classic game, Hangman. Answer correctly, keep the balloons from popping and make a clown happy! Comes with 300+ pre-loaded puzzles and with the built-in, drop-down control console (lockable and hide from view) adding a hundred or thousands of word puzzles is a snap! A wonderful educational tool; add words pertaining to the sciences, history, vocabulary and other various topics. One or Two Players. Kid friendly, child-safe graphics. ..

Software Features:

Expandable Database
User Control Console
Show/Hide Hints
Solve Word/Puzzle
Save/Reset Scores
Sound Effects
Easy/Hard Modes
GOPHER_SHOOT (pc windows (latest release: 1.0.3.0):
OverView: This is a simple old styled arcade type game. The goal; shoot the damn gophers! Points range from 25 to 100. Reach 1000 pts., shoot the crow and that's an additional 200 points. Each successive round is a multiple of 1200. Example: to reach round 3 you need 2400 pts., round 4 you need 3600 points, and so on. (Please note, shooting the cow will cost you 200 points!) The game will continue until to fail to reach the next plateau or you decide to cancel the game.

Software Requirements

Windows XP(SP2) or Higher
Min. Screen Resolution: 1280 x 1024







tic tac toe (pc windows (plus edition) ):

Who hasn't doodled this classic game on the back of a school notebook, a restaurant napkin or played a few rounds at the kitchen table? TicTacToe+ revisits this nostalgic game with both classic 9 and Plus 25 square-board. Wonderin' what to do on a rainy afternoon? Why not play tic-tac-toe? Use the built-in Gaming A.I. (Simulated artificial intelligence) as your virtual-playing partner or challenge that person stuck indoors with you -

Software Features:

A.I. (or Human) Competition
Classic or Plus Mode Play
Multiple Wins (+Mode)
Win/Loss/Draw/Points Stats
Optional Sound Effects




TRESPASSER GAME FAN LEVEL - RUINS LEVEL

Trespasser is a pc game made way back in 1998. There's still a few of us who create new levels for this near ancient game, mostly because we like dinosaurs. ;) The level is self-contained, meaning you don't need the retail version of the game to play this fan level. Simply download and unzip. The level is alpha, meaning that it its incomplete, but still playable. The level itself is meant to emulate an ancient roman city. You've crashed here, so your objective is to find your way out of the confines of the city. There's literally dozens of fan levels made for this game, and if you're interested, I'd suggest visiting trescom.org for further levels and information on the game itself.
Download Level




Terms of Use:

Programs are free to do as you will. User(s) can redistribute these programs, but are asked to keep any credits intact. WARRANTY: All software is provided 'as is'without any expressed or implied warranty of any kind. In no event shall the author of the software be held liable for any damages or undefined behavior with its use or misuse.
Walter Kolodzieski, © 2014 -17. Page last updated: March12th, 2017 Contact: moc.oohay@14lebertsal
Note: To defeat the dreaded spambots, the above email address is written in reverse.
trespasser pc game (Contains download links, for game utilities)
Extreme Meter